Last November, I entered the Canada Writes Short Story competition.
My entry didn't make the long list, but I thought I'd share it here.
When the breeze comes
There he was.
His hair had more salt in it. Less pepper. Still thick, clinging doggedly to his scalp. There had been nights when she'd pulled on it, held on for survival through those back-arcing throes of white lights. Sensations that words can never encompass.
Her favourite hairs were on his nape. She imagined the tiny bristles against her palm if she were to run her hand up his neck. Disturbing the grain. Slowly. Deliberately bringing them to attention.
How many years had it been since she'd touched him? She didn't know. She ached to feel him. Like rain when it pitters and patters on a window. How it lands fast and hard before dripping languidly down, leaving a wet trail and remnants of its touch. As it takes its trickling time in the journey down the hot glass.
She was too far away from him to do it.
Peter. Too far away from Peter.
How many times had she said his name? Screamed it. Written it. Dreamed it. The letters still flourished there. On the tip of her tongue. That place where taste climaxes in a garden of buds. Eager to jump, leap out of her mouth and into his ears. But she daren't allow it. For now.
She remembered how he used to say her name. Clara. When he whispered it so quietly only the downy hairs on her arms heard. They always lifted to his baritone. Called towards him like the wild. She wondered if his body would recognize her voice. Tremble and tense. Turn with feline curiosity.
She began to say his name, pursed her lips in preparation, but couldn't bring herself to make the sounds. Not yet.
The café was crowded. There were so many faces that they all blurred together into a solitary person. She became them. Bodies filling up space. Unrecognizable. Indistinguishable as ones.
Except for that ding. Someone was beeping. Faint and muffled in a pocket or bag. A modern annoyance and distraction she wished the owner would notice and shut off.
Beep. Beep. Beep.
Clara was out of his sight line when he turned with his steaming cup of coffee. Although faint to her senses, the smell of caffeine in the small room was making her nauseous. The rich, mahogany scent had once been so pleasurable. But pleasure wasn't something she knew much about anymore. Only prickly numbness. The emptiness one feels when love disappears from life. Or when life disappears from love.
She watched him leave the coffee shop with the frivolous haste of someone on a schedule. Meetings, phone calls, emails were earnestly waiting. Ostensibly important items in his life. But if he'd known she was there, would he have stayed?
His suit moved gracefully with him. Part of his being. Sewn on his body by mice in the night. He had always dressed well. She thought of the closet they had once shared. His hangers so neatly spaced compared to her opposing disarray.
Chaos. That's what had broken them.
Their life had at one time been full of sharing. Bowls of blossomed popcorn kernels as unique as snowflakes, drunken in a sea of butter. Bottles of crimson wine that summoned dreams out of captivity. Hot baths in the height of winter and the resulting puddled porcelain floors. A marriage certificate with their signatures, one looping, the other scrawled, sitting side by side on legal paper. Not touching, but together.
Would they share again? More than merely memories?
*
He was easy to find at lunch. Notwithstanding the time that had passed, Peter's habits remained predictable.
Saul's Bakery. Smoked salmon, avocado, cream cheese on a toasted sesame seed bagel. She remembered how it tasted. The oval seeds stuck snuggly between the teeth, cemented in by thick white cheese. She used to meet Peter during this midday break, not only for his company, but for the salmon that melted on her tongue. She had always loved the ocean.
She had no appetite now. No hunger for food, despite a hollow stomach.
There were more lines around his eyes than she remembered. Clara watched them crinkle as he laughed with his colleague. They were happy lines, then. Streaks of laughter and joy. The heavy black velvet cloak of sadness enveloped her. She had missed their development. The moments that had cracked them into being. The jokes and happiness. She should have been there. Have the same markings of life on her own face.
He sat outside in spite of the autumn crisp. The wind blew open his jacket and rumpled his zebra locks. She couldn't feel the chill. Paid no notice to the cold that wanted to bite her fingers. Her focus was stolen by him. Why wouldn't his eyes find hers? Could he not sense her watching from under the barren tree?
Perhaps it was that tedious beeping that had returned. It blinded her energy. Masked her scent.
Beep. Beep. Beep.
*
She lost him for hours after that. The sun retreated. Time darkened.
But somehow, she came upon him again. Interrupted a tender scene that made her heart hurt. Clara slid into the booth of a recently vacated table in the dim restaurant where Peter spoke intimately with another woman. A brunette. Who mildly resembled Clara if one squinted their eyes. Was Peter squinting? Is that how the wrinkles had appeared? In his search for someone like her?
The restaurant was playing their song. Georgia. Willie Nelson, not Ray Charles. A detail she noticed, and watched his face for a flicker of acknowledgement. A sign that he still thought of her. On his mind. Was that a pause in conversation? Had he faltered in speech? She grasped for anything. But pulled on unattached strings that fell limp in her hands.
His date, a word she found difficult to process, excused herself from the table. Peter took his wallet from his jacket pocket and looked inside the flap. Hesitating before he removed a credit card, which dropped to the table with a clack.
Perhaps this was her chance. Her time to be present. Back in his life. Dormancy didn't suit her. She began to stand, and his eyes finally wandered towards her. Staring into the space in front of him.
A waitress appeared to clear the table of soiled glasses. Blocked.  Had he seen her?
Beep. Beep. Beep.
It consumed her brain. Returned, not to be ignored. Louder than thought. And she closed her eyes to will it away.
Beep. Beep. Beep.
Slow and steady. Monotonous. When her head got used to the disturbance and she opened her lids, the couple were gone.
*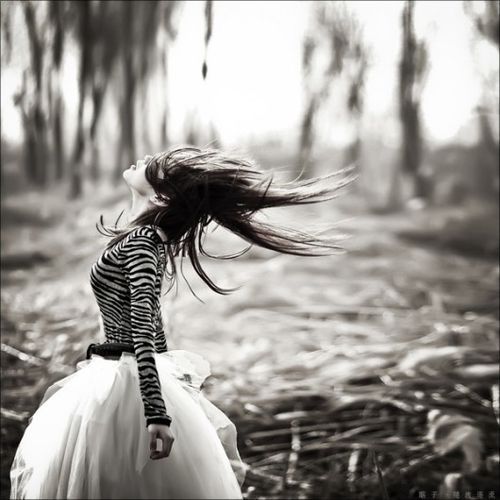 Clara made it outside in time to catch sight of the kiss. One impenetrable, breath-capturing kiss. She knew it well. Her longing got lost in the shadow she stood in. Envy reached its fingers along the sidewalk and scratched up Peter's spine. He didn't notice.
For the first time that day, Clara felt the breeze. Earlier, she'd seen it touch the leaves that clung for dear life. Watched as the weaker stems fell, albeit gracefully, to the pile of their kin below. To be embraced or swallowed by the earth. She wouldn't let her stems fail her. Couldn't become a heap in the ground.
The beeping was deafening now. Too much to bear. She was sure her head would explode, project blood in splatters around her. But perhaps that would be enough to stop the kissing lovers as her guts landed on their hold.
She could take it no more. All Clara could do was yell his name and hope it broke past the beep.
Peter!
Darkness entered her world too soon for her to see him abruptly end the kiss.
*
Peter had said goodbye to his date sooner than anticipated. Ferried her inquisitive face and disappointed body into a taxi before finding one for himself. The wind had tricked him. Warned him he wasn't ready to move on with one thunderous murmur in his ear.
He was ringing. Called back to earth with the simplicity of sound. The name on his phone's display made his teeth clench and dislodged a seed held hostage.
"St. Paul's Hospital."
He answered with a stuttered hello. A small voice his phone had never heard him utter.
"Mr. Lerner, your wife has woken up." Unexpected words. Hoped for syllables. A dead dream resurrected.
Peter's mouth fell unbelievingly open. The phone dropped onto the seat beside him. Destination was hastily rerouted as the bothersome seed blew out of his mouth. He ripped his wallet from his blazer to throw money at the driver when the car came to a halt.
There she was. Clara. Her photo stared at him from between the folds of worn leather. Given up on but never forgotten.